Dr Antony Goodhead
Antony Goodhead was schooled in the Durban area and completed a BSc Agriculture degree at the University of Natal. Following this, he went to the Onderstepoort Veterinary Faculty at Pretoria University, where he completed his BVSc degree as well as the Masters degree in ophthalmology. Antony has had the opportunity to live and work in the UK and to regularly attend veterinary congresses in the Europe and USA. Antony holds his Certificate in Veterinary Ophthalmology from the Royal College of Veterinary Surgeons.
He is married and has two young daughters. He enjoys good quality family time and outdoor activities such as camping with his family. Amongst the many animals they have at home, he also breeds Norfolk terriers.
Dr Izak Venter
Izak matriculated in Bloemfontein and then went to Onderstepoort where he completed his BVSc degree in 1990. He developed a special interest in ophthalmology and obtained his Masters degree in ophthalmology in 1994. Izak keeps abreast of the latest developments in ophthalmology and attends veterinary ophthalmology congresses in the USA and the Europe. Izak is married and has a daughter and son. He enjoys fly fishing, hiking and 4X4 trails. Izak's own pets include a cat and two snakes.

Dr Lo-An Odayar
Lo-An completed her BVSc and has been in general veterinary practice before completing and obtaining her Masters degree in veterinary ophthalmology. Lo-An joined the Johannesburg Animal Eye Hospital in 2008. She is married and has two Miniature Schnauzer fur kids named Bella and Diego.
Jenny Charlesworth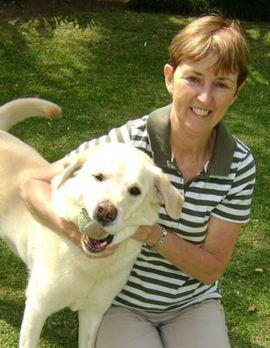 Jenny loves her job as the afternoon receptionist at the Johannesburg Animal Eye Hospital. She has three grown up children - two sons living in London and a daughter studying law locally. Her hobbies are reading, patchwork, Sudoku, keeping fit, machine embroidery, theatre and wildlife. She is also doing her Family Tree and has found many helpful resources on the internet.
Karin Jardim
Karin Jardim is a receptionist at The Johannesburg Animal Eye Hospital. She is married and has two daughters aged 24 and 26. She lives on a farm and has a menagerie of animals from cats to dogs to cows. Her family's latest pets include her youngest daughter's one-year-old Bearded Dragon, her eldest daughter's one-year-old Chameleon and her Bearded Dragon who is just under a year old, which was too shy for a photo. Karin's hobbies are gardening and reading.
Joel Molomo
Joel is the kennel assistant and has been working at the eye hospital since our inception in 1996. He has 2 daughters and comes from Marble Hall area. Joel is a very keen supporter of a local soccer team.